Manufacture of a Forza Door
The following narrative and photographs give a brief overview of the Forza production technique that has been specifically developed to support the demands and needs of the construction industry for a 10 to 14 day lead time.
Order process
From information received either by phone conversation, drawings or door schedule our experienced staff will prepare the Forza door quote document that forms the catalyst for the successful preparation of the clients order. Having received confirmation of specification, dimensions and accepted price we will programme production to meet the required delivery date.
Panel Sizing Department
Dependant on required specification, door cores will be selected and cut to size on Biesse Sektor 450 beam saws providing precise measurement and quality of cut. Graphic labelling with text, parts drawing and barcodes are printed at machine side, making for fast and easy identification of cut parts within the production process.
Edge Lipping
Homag edge band machines apply a hotmelt PUR resin to selected timber lippings covering all four edges of the door or panel. Machine capabilities are available for the application of ABS/PVC edgings to compliment face finish (HPL) laminates.
Calibrating Sander
Dimensional accuracy of the flat substrate panel is critical to the finished quality of the door or panel. This accuracy is provided by the Homag Butfering wide belt/three head sander.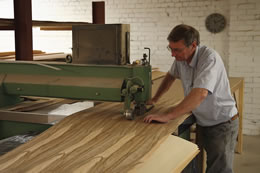 Veneer Preparation
The Forza staff preparing the layons for our doors and panels have over eighty years combined experience in the selection, cutting, matching and jointing of a wide variety of commercially available timber veneers.
The Press Department
Application of the veneer layons or laminate sheets to the core substrate is carried out in a single heated process on an Italpresse through feed hot press.
CNC Machining
At this point in the production process multi-axis CNC machines centres clean and aris the door edges, cut vision panel apertures and router for the hinge, lock and intumescent preparation in one programmed function.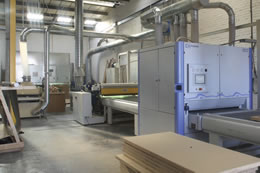 The Finishing Line
A CNC denib and finishing sander in–line with a roller coat lacquer applicator and ultraviolet drying lamps produce a full grain silk finish to all Forza doors and panels that highlights the unique characteristics of each veneer.
Vision Panel Preparation
Sized vision panel frames are prepared from timbers selected to compliment the face finish door and are finished with a suitable lacquer or primed for paint. Dependant on required acoustic and or fire performance a suitable glass and gasket are fitted to the frame in the prepared aperture to complete the Forza production process.
Certification Label and Packaging
Following final quality inspection, doors and panels are suitably packed and palletised for dispatch. To each Forza fire door a unique numbered IFCC tamper proof label is attached to the top edge of the door along with the product fire certificate and the contractor's installation statement.